IOS
Top 12 Apple Watch Faces to Personalize Your Device
One of the best features of the Apple Watch is the ability to customize the watch face. With a wide variety of designs and styles, you can truly personalize your Watch to match your personality and preferences.
The watch face displays key information like the time, date, weather and more at just a glance. Some faces allow further customization through complications – small apps that can provide quick access to data like your activity, heart rate, calendar events and much more.
Selecting the right Apple Watch face allows you to optimize the Watch experience for your needs. Let's explore some of the top faces available and how to make them your own.
What is an Apple Watch Face?
The watch face is essentially the home screen for your Apple Watch. It prominently displays the time and offers convenient access to alerts, apps and functions.
Apple Watch comes pre-loaded with a variety of analog and digital watch faces featuring different styles and designs. Many faces allow customizing complications – small snapshots of useful information from apps on the Watch.
The ability to change faces and complications means you can transform the look and utility of your Watch in just a few taps. You can match it to your outfit, activities or mood for the day.
Why Are Apple Watch Faces Important?
Choosing the right watch face is key to getting the most from your Apple Watch. Here are some of the advantages they provide:
Personalization – Express your style with cool, colorful, or minimalist faces.
Convenience – View useful info like calendar events and weather at a glance.
Fitness tracking – Add complications to monitor daily activity or workouts.
Accessibility – Choose bold, easier-to-read faces if vision impaired.
Notifications – Assign complications for email, messages, and smart home controls.
Fun factor – Some faces feature fun animations, characters, and themes.
Motivation – Faces with fitness and activity tracking can motivate you to move.
Ease of use – Well-designed faces allow easy access to the functions you use most.
How to Choose the Right Apple Watch Face
With so many options, how do you select the ideal watch face? Here are some tips:
Identify the 3-4 complications you access most – like fitness, calendar, or smart home.
Choose a face with enough complication slots for those vital apps.
Like the Infograph or Modular face for viewing more complications simultaneously.
Prefer digital or analog? Digital faces display more data, while analog has a classic wristwatch style.
Do you regularly use Siri on your watch? Try the fun Siri face.
The right color scheme can match your personal style or wardrobe palette.
Need to see metrics at a glance during workouts? Sporty faces like Nike Digital help.
Prioritize big, bold or simple numbers if you have a visual impairment.
Don't hesitate to switch it up and test different faces out. You can easily change them later as your needs and taste evolve.
Best Apple Watch Faces
Here is a closer look at some of the most popular Apple Watch faces and their key features:
1. California
The California face epitomizes classic analog style with its traditional watch hands displaying the hours, minutes, and seconds. The name comes from its design inspired by mid-century modern wristwatches from California. Custom complications allow personalization while retaining the timeless aesthetic. The simple, elegant look makes it versatile for any occasion.
Key Features:
Classic analog watch style with three hands to display hours, minutes and seconds.
Customizable complications for date, weather, battery level etc.
Optional numerals mark the cardinal directions on the watch dial.
Change colors of the watch hands, complications, background and numerals.
Available in two sizes – 40mm and 44mm.
The California face oozes understated elegance. Its simplicity also makes it very glanceable and easy to read.
2. Infograph
Infograph caters to data-driven users by cramming the face with plentiful complications, displaying up to 8 simultaneously. This digital face grants convenient access to abundant metrics like activity, heart rate, weather, moon phase, and more. Viewing multiple data snapshots on the intricately designed face makes Infograph ideal for users who constantly check their Watch for updates and notifications.
Key Features:
Multiple complication slots – up to 8 on 44mm model and 6 on 40mm.
View more information simultaneously like activity, heart rate, weather, moon phase etc.
Digital time is prominently displayed in the middle.
Customize colors of the dial, numbers and complications.
If you constantly check your Watch for notifications and updates, Infograph grants convenient access right from your wrist.
3. Modular
Modular intelligently balances digital time readouts against complication integration. Its thoughtful layout apportions real estate between a large glanceable time display and two large, two small complication slots. This allows showcasing your most important apps while retaining clear time visibility. The customizable modules enable adaptable utility based on your top priorities.
Key Features:
Two large complication slots at the top and two smaller ones along the bottom.
Digital time displays prominently in the center in a choice of colors.
Optional borders around each complication module.
Color, alignment, background and number customizations available.
The modular layout adapts well to highlighting your most important daily data. The minimalist style also gives it broad appeal.
4. X-Large
Readability takes focus on X-Large with its distraction-free oversized numerals. Bold digital time dominates the spartan dial, maximizing legibility with pronounced hour, minute, and second displays. The unencumbered face optimizes for quick time checking. Combined with the large font, X-Large aids visibility for users with visual impairments.
Key Features:
Oversized display of digital time in hours, minutes and seconds.
Unencumbered dial without other distractions.
Ideal for quick, at-a-glance time checks.
Four complications available for additional information.
Fully digital custom colors and backgrounds.
If you want a bold, clutter-free, readable face, X-Large delivers with its clean, crisp oversized numbers against a minimal background.
5. Siri
Siri gets prime visibility on its namesake face. Tapping the waveform promptly summons Apple's assistant for convenient hands-free voice interactions. Visual Siri responses accompany the voice replies, providing richer contextual information to queries. The seamless access makes it easy to get weather, news, calendar appointments and more updates without touch input.
Key Features:
Tap the Siri waveform on the Watch face to activate and speak to Siri.
Watch will display visually rich responses from Siri.
View calendar events, news headlines, sports scores etc. on the Siri face.
Fun animations like waving or bouncing Siri.
Fully customizable colors and background.
It's like having Siri at your fingertips! The seamless access and visual responses make it very handy.
6. Nike Digital
Nike Digital energizes fitness tracking by integrating activity complications against a sporty backdrop of neon accents and legendary Nike branding. Complications can display metrics like steps, distance, and heart rate, while the flashy style provides motivation. The Nike Run Club integration provides a tailored experience for athletes in training.
Key Features:
Iconic Nike logo and flair with neon color accents.
Multiple spots for complications tracking fitness and workouts.
Change colors of the numbers, streaks and background.
Encouraging messages and celebratory animations on milestones.
Seamless syncing with Nike Run Club app.
Athletes will love the motivational style, active complications and Nike integration tailored for training.
7. Playtime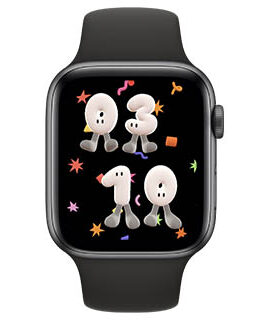 Playtime's adorable animated figures like bouncing robots, astronauts, and smiling rainbows inject childlike joy and whimsy into the Watch. Vivid colors and fun movements create delightful animations that change throughout the day. The playful visuals lend fun personality that appeals to kids and the young at heart.
Key Features:
Adorable on-screen characters like an astronaut, smiling rainbow or friendly robot.
Fun animations and movements like waving, dancing or bouncing.
Change character, background color and complication display.
Ideal for kids but appealing to the young at heart.
The cute animated figures and colors make this a fun, loveable Watch face full of personality. It's sure to bring a smile.
8. Meridian
Meridian uses a stylized globe graphic that uniquely represents time, displaying the sun's relative position relative to the user. The 24-hour military time displays digitally for added uniqueness. The contemporary face fuses artistic design and digital formats into an eye-catching experience, unlike any other watch face.
Key Features:
Globe representation shows the location of the sun relative to you.
24-hour military time displayed in digital format.
Moon phase complication.
Customizable background color gradients.
Stylish, contemporary look.
Meridian delivers with an innovative spin if you want a modern, eye-catching way to tell time. The globe visuals and military time display provide an unconventional edge.
9. Chronograph
Transforming Apple Watch into a professional-grade timing device, Chronograph integrates a stopwatch with play, pause, and reset controls, along with a tachymeter for speed calculations. The accurate stopwatch enables precisely tracking athletic performances and task times, while the tachymeter provides quick speed conversions.
Key Features:
Integrated stopwatch with play, pause and reset controls.
Measures time up to one hour in 1/100 second increments.
Tachymeter to gauge speed based on travel time over a fixed distance.
Three complications for further customization.
Choice of three background colors.
The built-in precision stopwatch makes it perfect for timing workouts, cooking, events, and more. The tachymeter helps with speed-based calculations.
10. Stripes
Stripes injects dynamic energy through colorful gradient bars that shift hues to reflect the current time. Customizations allow tailoring the stripe patterns and color palettes to match your style. The time-based color changes give the face a fun, lively vibe. Both analog and digital variants are offered.
Key Features:
Stripes dynamically adjust their gradient colors based on time of day.
Customize number text color.
Five complications for fitness tracking, weather etc.
The Stripes face adds an energetic vibe through the shifting colored bars reflecting the time.both analog and digital options.
11. Photos
Photos allow curating a daily rotating album of special moments to appear as your Watch face background. The ability to showcase meaningful memories and loved ones makes the Watch feel more personal. Both nostalgic and unique, Photos converts your wrist into a personal rotating viewfinder.
Key features:
New photo appears automatically each day.
Customize directly on Watch or sync photos from iPhone.
-supports landscape and portrait photos.
Apply color filters for different looks.
Analog or digital time display.
Photos make your Watch personal, converting it into a rotating album of special moments and people.
12. Memoji
Memoji takes personalization to the limit by putting your customized animated avatar directly on the watch face. Your Memoji mirrors your movements and poses to make the face exceptionally expressive. Waving, clapping, blowing kisses and more all get reflected, turning the Watch into a mini simulacrum of you.
Key Features:
-Display your Memoji avatar on the Watch.
-Animates and moves fluidly to reflect time.
-Customize skin, hairstyle, outfits and more.
-Share expressions and poses.
-Analog or digital time.
Putting yourself directly into the Watch face as a Memoji is a fun way to express your personality. Your avatar keeps your face lively.
How to Change Your Apple Watch Face
It's easy to swap Apple Watch faces, customize complications and make it your own:
Wake your Watch screen or swipe up from the bottom edge.
Press and hold the current Watch face.
Swipe left and right to preview the available faces.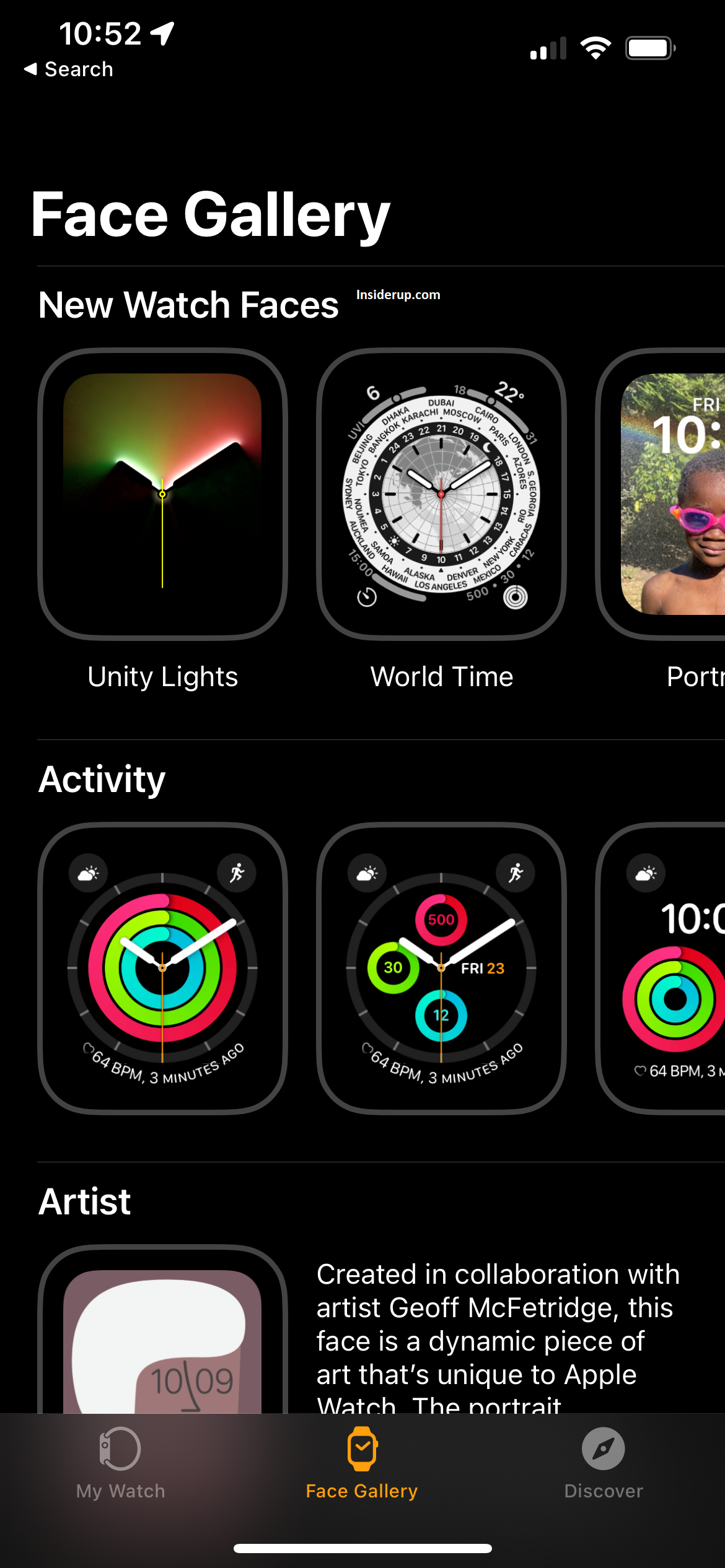 Tap on your desired face to select it.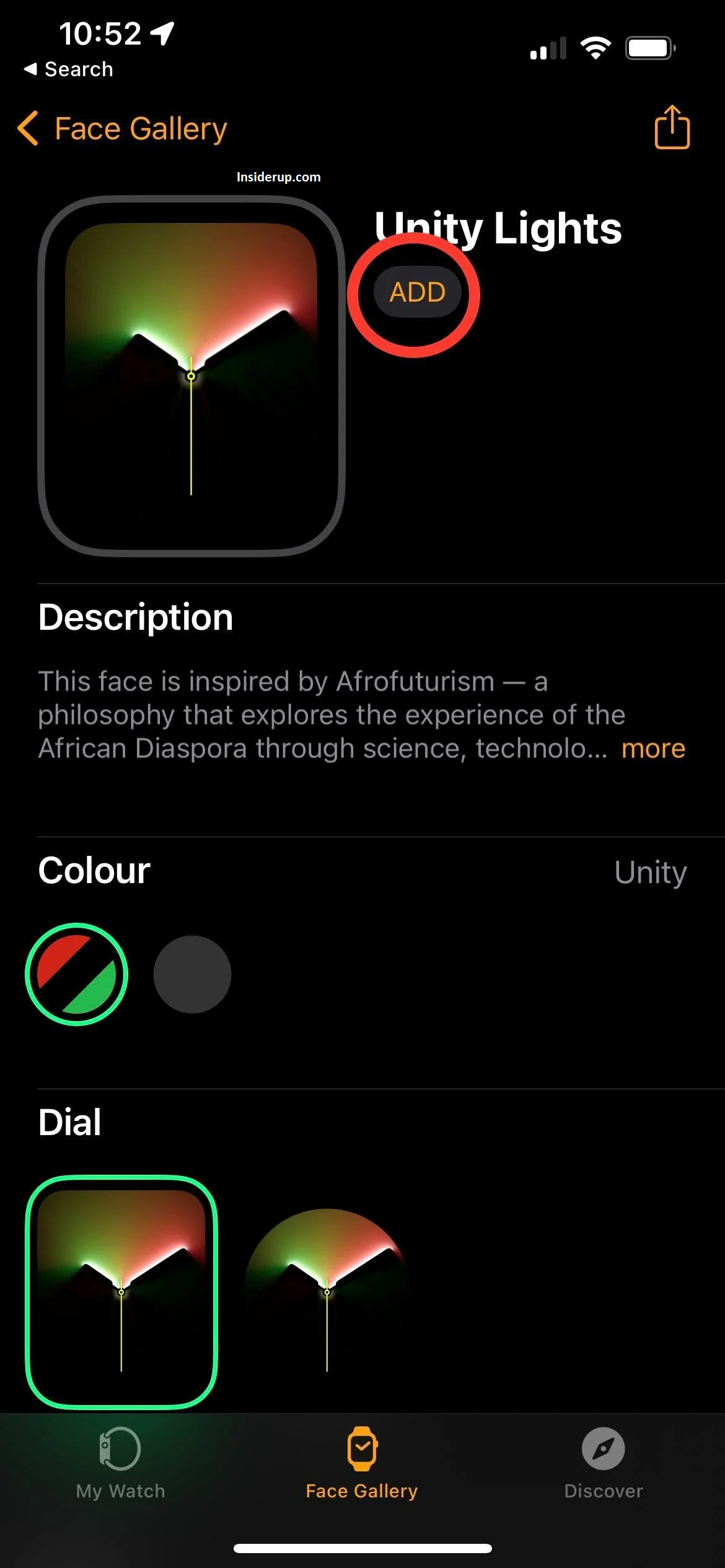 To customize, tap on a complication icon to change its setting.
You can also long-press the Watch face again and tap "Customize" to change complication layouts.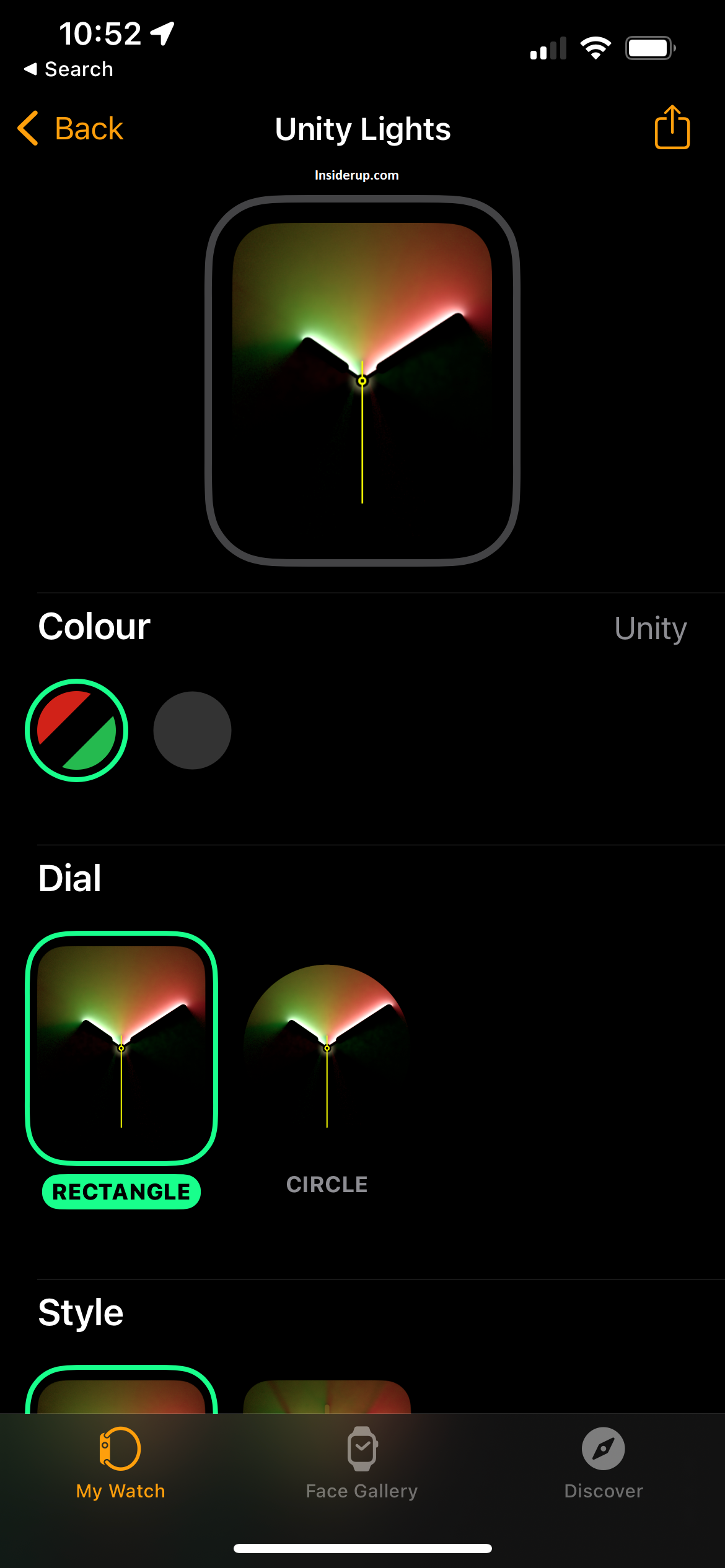 On iPhone, use the Watch app to access even more customization options.
Take advantage of the many Apple Watch faces to tailor your Watch to your style, needs, and activities. Don't be afraid to get creative and swap faces to match the occasion!
Conclusion
One of the best Apple Watch features is the ability to transform the look and utility by customizing watch faces. You can configure a face personalized for your needs and taste with various designs and complication options.
Faces like Infograph and Modular allow displaying multiple complications simultaneously so your most important data is always a glance away. Sporty faces like Nike Digital cater to fitness tracking and motivation.
Or for a classic analog look, the California face balances simplicity and elegance. There are also faces like Photos, Memoji and Playtime that showcase fun themes and characters.
Finding your ideal watch face may take some trial and error. Be sure to consider the apps and information most vital to you. The watchOS ecosystem empowers you to tailor your Watch face to a truly customized experience.
FAQs about Apple Watch faces
1. How Do I Get More Apple Watch Faces?
Apple adds new watch faces with major software updates. You can also install third party watch faces from the App Store. Just search for "watch faces" and browse the options.
2. What is the Difference Between Analog and Digital Watch Faces?
Analog faces have traditional watch hands and look like classic wristwatches. Digital faces present the time numerically and allow viewing more data via complications.
3. Can I Make My Own Custom Apple Watch Face?
Yes, you can use the Photos face or a third party app to create a customized watch face using your own images and designs. Apps like Facer allow building your own face.
4. How Do I Use Photos on My Apple Watch Face?
The Photos watch face lets you display pictures from your iPhone library. Open the Watch app, go to Face Gallery, pick Photos, then select which pics to feature and customize the layout.
5. Why Are Some Apple Watch Faces Missing on My Watch?
Older generation Apple Watches don't have all the newest faces. Series 4 and above have the most options. Update to the latest watchOS for access to the latest watch faces.
6. How Do I Change Apple Watch Faces Quickly?
Press down firmly on the current watch face until they all appear. Swipe left and right to preview faces, then tap your choice. You can also ask Siri to change faces.
7. Can I Have Multiple Watch Faces on Apple Watch?
Yes, you can store multiple customized watch faces on your Apple Watch. To change between them, press down on the current face until your options appear, then swipe and tap.
8. What Are the Best Apple Watch Faces for Working Out?
Sporty faces like Nike Digital, Motion, and Activity Digital cater specifically to workouts with complications for tracking fitness metrics.