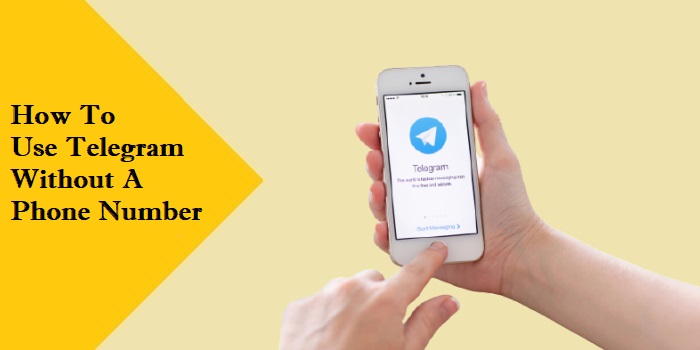 Many users do not wish to use their phone numbers on multiple messaging-based platforms such as WhatsApp, Telegram, etc. It is mainly for security reasons and because people sometimes wish to keep themselves anonymous. However, if you want to use Telegram without a Phone number, you can try out multiple third-party platforms that might help.
Furthermore, if you are not too sure about using such apps, you can always get a new phone number and use it for that particular purpose only, and no one will know about your identity. But this might not be an easy process as well. So, you should try out different methods and choose the one that works for you the best.
Here is all you can try to use Telegram without Phone Number.
How to Use Telegram without Phone Number
You can use different voice apps that are available for free to get a second number, with the help of which you can create your Telegram account. Here is what you can do.
Create an account on any voice app, such as Google Voice, TextNow, etc.

Select the area code or location you want the number from.

Now, select a virtual number.

Set up the remaining steps to confirm the process
Once you are done with the above, you will have another number you can use to make calls and text other people. Now, you can simply use this number to create an account on Telegram.
Open the Telegram app or website.

Click on Sign up to create an account.

Enter the number you have got from the voice app

Confirm the OTP sent to the voice app to confirm
Your account is now created, and you can use it to reach out to people anonymously.
1. TextNow
The first platform that you can use to get an alternative or virtual phone number is TextNow. It is one of the most popular sites where users can apply to get a phone number and use it to create a Telegram account.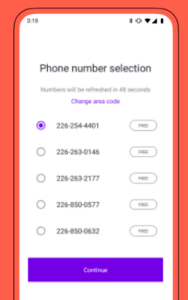 You simply have to download and register on the app to get started. After signing up, you can get your free number based on the area code of your choice, and then you can enjoy free calls & texts over Wi-Fi free of cost. This platform does have ads in between, which can be annoying, but you can switch to a paid plan that removes the ads.
Once you get a number, you can use it to create a telegram account and enjoy all its services without hassle.
2. Google Voice
Next, we have Google Voice. Everyone might have already heard about this existence since it is also very popular. Although not every country currently provides this service, it can be put to great use since it is free of cost. Now, considering it is available in your country, you can simply start by creating an account here.
Download the app on your devices and sign in through your Google Account.

Next, search for virtual numbers based on locations or area codes.

From the list, you can click on

select

to choose a number and tap on

Accept number

to confirm.

Now, simply follow all the steps to complete the process.
Once you are done with everything, you can simply copy and paste the number you have selected and use it to create a Telegram account and verify it.
3. Burner
If you are looking for a more professional set of features that has a lot to offer than simply texting or calling, Burner is one of the most popular apps you can use. Currently, the services are only offered in the US and Canada, where you can get a virtual number to make calls and texts.
With this app, you will get a 7-day free trial where you can get 20 minutes of total talk time and 60 texts only. After this, you will have to subscribe to avail of all of its services. Once your trial period expires, your number will no longer exist until you renew it.
There are a lot of options here in terms of paid subscriptions. You can get the premium plan, three phone numbers with unlimited texts and calls. Furthermore, the plans also have zero ads, spammer blocking, and other features.
4. CoverMe
Have you heard of CoverMe yet? It is yet another platform that offers the same set of features but has different terms and plans for its users. You can download the Android app and avail all its features. This platform provides a secure connection over VoIP in terms of texts and calls. You can even get a phone number that keeps all your conversations secure.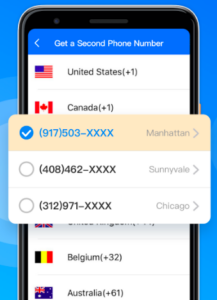 Moving on, you can try out this platform through its 7-day free trial. However, to be able to use all the features such as Vault, encrypted calls, phone numbers, etc., you will have to take up the paid plan depending on the features and your requirements.
And once you get a phone number, ultimately, you can start a telegram account without having to use your phone number.
Frequently Asked Questions
1. Can I create 2 Telegram accounts with the same number?
Since Telegram largely focuses on creating an account using only a phone number, you cannot create multiple accounts with the same number. However, there are multiple platforms on the web where you can get a virtual phone number and use it to create another account.
2. Can people see my number on Telegram?
No, not everyone can see your phone number. If you are texting or calling anyone on the private chat, they will not be able to know your number in any manner. However, they can see your number if you have them in your contact list or address book. In fact, when you join Telegram, they get a notification that your contact has joined the platform.
Conclusion
Here we are all you need to know on how to use Telegram without a phone number. With this guide, you can conclude with the fact that you will ultimately need a phone number to create an account. However, it does not need to be your phone number.
You can simply use multiple platforms that offer a second virtual number that you can use for this purpose. Platforms such as TextNow offer free services to all their users, which is perfect for getting started. If you are still unsatisfied with the services, there are other platforms, such as Burner, where you can get paid plans and enjoy added features and a smooth experience.