The best part of using a Chromebook is that you can create bookmarks of your favorite web pages. This makes it easier for all users to simply access those web pages or websites with a single click. However, you can also delete the bookmarks from the Chrome Browser on your Chromebooks if you no longer need them.
There is a limited space to add bookmarks as well, and keeping all of them seems cluttered and unnecessary. To keep them organized, you can filter out the ones you do not need anymore or those web pages that no longer exist. Furthermore, the process is easier than it sounds. Here are the steps you can follow to delete bookmarks on Chromebook.
How To Delete Bookmarks on Chromebook
Here are the steps to delete the Bookmarks on your Chromebooks. Simply open the chrome browser, and let us get started.
Open your Chrome Browser

Select the Bookmark you want to delete and make right click on it

Now, tap on Delete.
You can keep repeating the same process to eliminate as many bookmarks as you like from your browser.
How To Manage Bookmarks on Chromebook
If you are looking to make changes to your bookmark or manage the entire list, such as deleting them, editing them, deleting mobile bookmarks, etc., you can do it all from your Chromebook itself. Here is what you can do.
Open Chrome Browser

Now, right-click on any bookmark on the bar.

Choose

Bookmark Manager
Another window will open in the browser with the list of all the bookmarks you have created and the ones on your smartphone. Here, you can make edits to the bookmarks, such as their name, URL, and other changes. You can even delete them from here itself.
Choose

Bookmarks Bar

from the side menu.
Now, tap on the three dots to open menu options

Here, select

Edit

to make changes to the bookmark

Once you have made changes, click on done to save it. You can also delete the bookmark from the drop-down list. The same can be done in the Mobile Bookmarks section.
How do I get rid of Bookmarks in Chrome that won't delete?
If you are unable to delete the Bookmarks in Chrome, you can try out different solutions to it to get rid of them. Some of the solutions that we found useful and worth giving a shot at are listed below. Here it goes.
1. Reset Chrome Sync
If you are using Google Chrome on multiple devices, all your data are synced to one another while using the same Google Account. With the help of the reset function, all the synced data on the servers will get deleted, which might solve the issue with the bookmarks. Also, all the other data will remain intact, and you can then try removing the bookmarks from chrome again. Here is how you can do it.
Open Google Chrome

Now, click on the three dots in the top-right corner and open

Settings

Under the

You and Google

section on the screen, click on

Sync and Google Services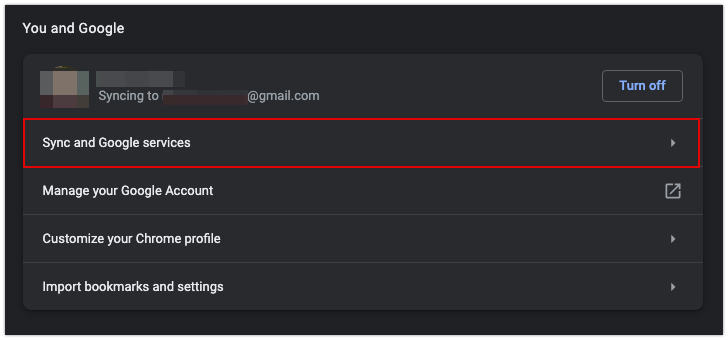 Here, tap on

Review your synced data.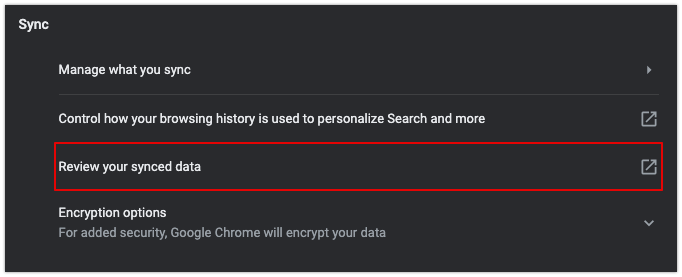 Scroll down and tap on

Clear Data.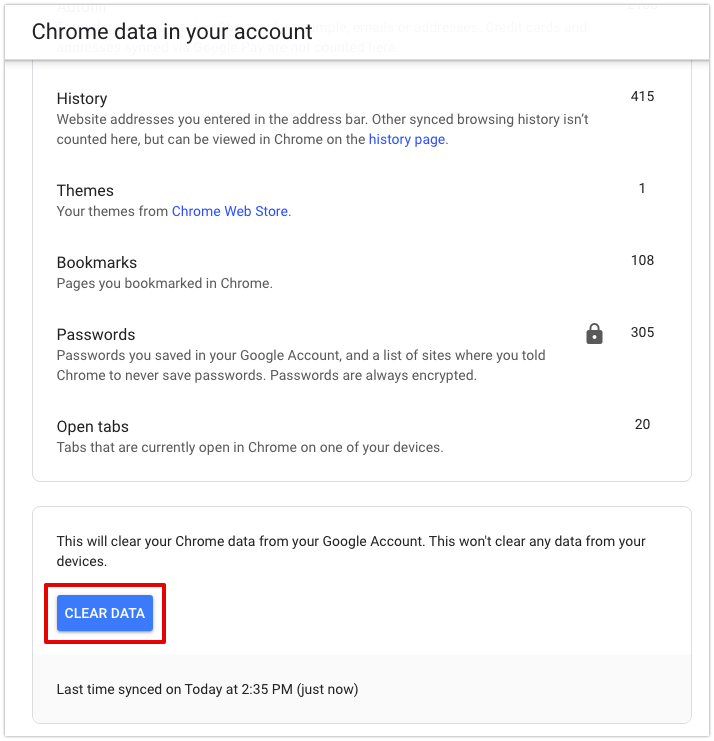 Now, simply click on

OK

to confirm
Once you click the above button, all the data will be deleted from your Google Account, and you can start syncing again. Here you can now try deleting the bookmarks.
2. Disable Bookmark Extensions
If you have downloaded or added any extensions to your Google Chrome on a Chromebook, you might want to disable it. Some extensions tend to interfere with the normal functions of an app or software which in this case might be the bookmarks themselves. Hence, the best way is to disable any such extensions.
Open Google Chrome on your Chromebook

Now, click on the three dots on the top right corner of the tab.

Here, tap on More Tools and select Extensions.

Look for the extensions meant for Bookmarks and switch it off.
Once you disable it, try restarting Chrome and then delete the bookmarks you wanted it. If this works, you can either enable the extension again or reinstall it on the system.
3. Reset Google Chrome
Just like you always go for restarting your system if any errors occur, you can do the same with Google Chrome as well. In this case, we will follow several steps to reset Chrome and check if our issue is resolved. This process will revert Chrome and all your changes to their default state.
Open Google Chrome settings.

Now, on the left menu options, click on

Reset Settings

Here, select

Review your synced data

on the screen

Tap on

Reset Settings

to confirm
Wait for a few minutes while the actions take place, and then you can try to set everything back again on your Chrome and try deleting the bookmarks that were causing the issues.
Conclusion
Here we are with all you need to know on how to delete Bookmarks on Chromebook. The process is easy to carry out, but not everything works as we need it to. So, you try out different methods, as mentioned in this guide, to resolve the issue. If you are not willing to delete the bookmarks, you can also use the manager to make edits to them, such as changing the URL, name, description, etc.