Who doesn't love downloading new things from the internet? But slow downloads and a long time for downloading a bit sized file,easily gets on everybody's nerves!
So IDM is the way to go!
IDM (Internet Download Manager) is one of the most popular download managers on the internet. It has a wide number of functions, including quicker downloads with resumption, download schedules, collecting movies from the web, and so on.
The greatest things in life come at a price, and compatibility is no exception. IDM is available for Windows, however, it does not support macOS, Linux, or any other operating systems. Furthermore, the software is only free for 30 days, after which it costs $24.95, which is not what you would anticipate.
As a result, you may have been searching for an IDM replacement that is both free and compatible with different operating systems. You've come to the correct spot if you're looking for answers to these questions. This post will show you how to utilize the best and free IDM replacement to download files on your PC, Mac, or Linux computer. So, without further ado, let's get started!
For Windows and macOS, the Best Free IDM Alternative (2021)
JDownloader
JDownloader is an open-source program that may be the best IDM substitute. It includes all of IDM's most powerful features. It allows you to resume downloads, establish bandwidth limits, and much more. The ability to extract an archive file after the download was complete was one feature that perplexed us. JDownloader, like IDM, can customize themes.
Apart from the aforementioned capabilities, "Automatic CAPTCHA Solving" is something we didn't anticipate. It implies that the software will answer any CAPTCHAs it encounters to make the download as smooth as possible.
It has multilingual support, so the user will not find it difficult to use. JDownloader, unlike IDM, works with Windows, Mac OS X, Linux, and any other Java-based software. That stated it is currently the best IDM option on the market.
Windows, macOS, Linux, and Java-based software are all available.
Free Download Manager (FDM)
The Free Download Manager is the one that everyone is talking about. It has the potential to replace your Internet Download Manager as an IDM alternative. As the name implies, the Free Download Manager is free.
It has the same functions as the IDM, such as download acceleration, download resumption, and so on. The fact that it's also accessible on Android is a plus. One of the benefits of Free Download Manager, or simply FDM, has grabbed our notice. It also functions as a BitTorrent client, allowing you to add Magnet links or Torrent files with ease.
It wouldn't take up much more room, but it's nice to have it built-in. It doesn't have a video capture function, but when you put a YouTube URL into it, it displays the several resolutions you may download. It also comes with a Chrome plugin that allows you to retrieve downloads from compatible browsers. It is one of the most effective IDM options available.
Windows, macOS, Android, and Linux are all supported.
EagleGet
Another excellent IDM option is EagleGet. It's also lightweight and simple to use. This download manager has all of the features of IDM, including scheduled downloading, download acceleration, theming, and more.
EagleGet's ability to scan for malware while downloading files without the need for separate antivirus software on your computer is one of its best features.
It can import the download list from various download managers if you move from another download manager. It may also restart downloaded downloads that have expired. If you have any outstanding downloads in IDM or any other download manager, EagleGet will handle them without a hitch throughout the import process. Without a question, it is one of the best IDM options available.
Windows, Chrome extension, and portable version are all available (for Windows)
Internet Download Accelerator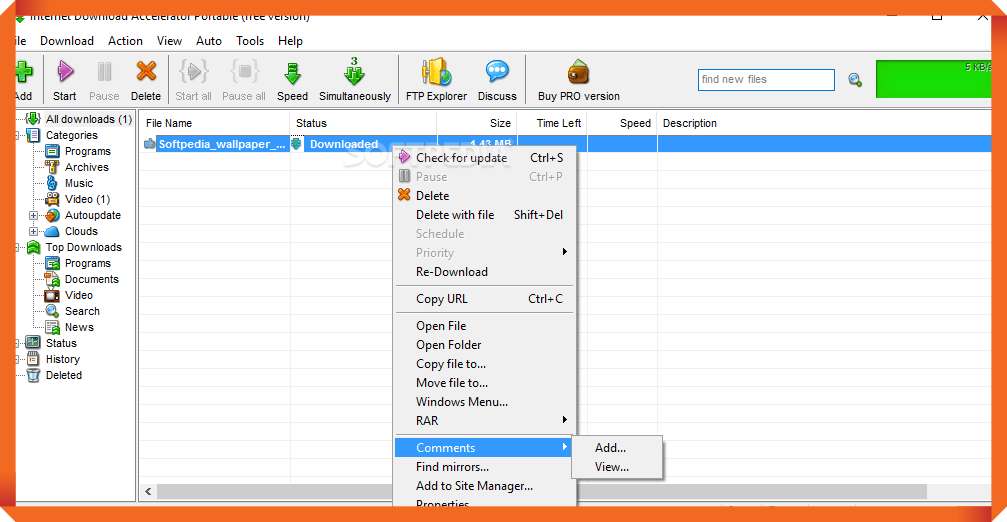 Another IDM option is Internet Download Accelerator, which has many of the same capabilities as IDM. There are many similarities between IDM and Scheduled Downloads, including support for video and audio downloads, download acceleration, theme support, and more.
It is not free, unlike IDM (not ultimately). As previously said, the functions are free, however, there are advertisements throughout the program.
The Internet Download Accelerator has a Pro edition that removes advertising and provides you access to features like download speed control, FTP, and more. The Pro edition is $9.95 for a single user and varies depending on the number of users. However, it does not support other operating systems such as macOS or Linux.
Windows is available.
FlashGet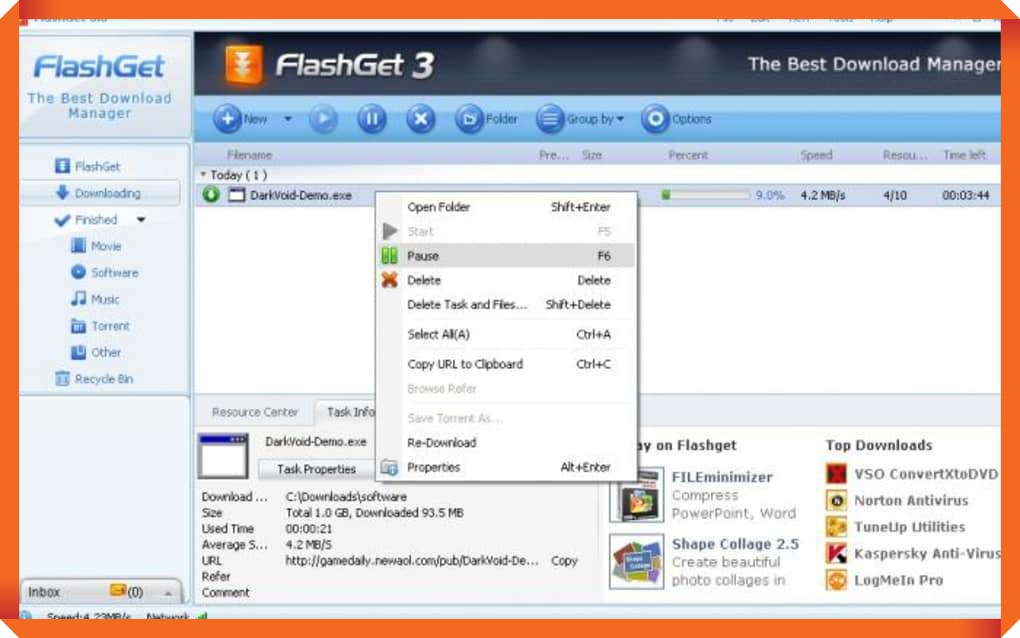 FlashGet is a download manager that has many of the same capabilities as IDM, making it a viable IDM alternative. It features a 10x download acceleration, making it superior to IDM. Aside from that, download categorization is limitless. One feature that caught my eye was the ability to instantly launch your antivirus software after the download was complete.
It was originally known as "Jet Car," but was subsequently renamed FlashGet. Despite the name change, it continues to support the same functionality as previously. It comes with support for various protocols and multiple downloads at the same time. The best thing is that running them simultaneously does not affect the system. However, it has only been released for Windows thus far.
Motrix
Motrix is a new member of the Download Managers family. To begin with, it has a simple and easy-to-understand user interface. It offers comparable download speeds as IDM, as well as several additional functions. UPnP & NAT-PMP Port Mapping, up to 10 concurrent downloads, 64 thread download support, and much more are included.
It also supports torrents and magnets at a faster rate. The best feature is that it includes Dark Mode, which isn't seen in other Download Managers. If you have a MacBook with TouchBar support, Motrix has you covered.
Motrix is currently in its early stages of development, so expect some problems. Motrix is a cross-platform application that runs on Windows, Mac OS X, and Linux. If it gets out of the development stage, Motrix may be a fantastic IDM option.
Windows, macOS, and Linux are all supported.
uGet Download Manager
UGet Download Manager is another IDM option that many users prefer. It was first released in 2003, with Linux support. Following its tremendous success on the Linux operating system, demand for other operating systems increased as well. This download manager has many of the same features as IDM, which makes it one of the best IDM alternatives.
You can do things like group downloads, schedule downloads, resume/pause downloads, and a lot more. The source code published to SourceForge ensures that the software is safe to download since it is open-source. It's a big cry from IDM in that it's completely free and accessible on the support of platforms, including Android.
Windows, macOS, Android, and Linux are all supported.
Ninja Download Manager
Ninja Download Manager is a fantastic alternative to both IDM and DownThemAll! It is a Chromium-based browser addon.
It's small and runs on a wide range of operating systems. Ninja Download Manager (NDM) is comparable to IDM in terms of functionality and download speeds. You'll have the ability to set speed limits, change themes, download resume and acceleration, and much more.
You may also modify or remove the metadata of your download if you're concerned about privacy. There is a Pro version that allows you to use it natively on Windows and macOS.
You may, however, download the free version for your Chromium-based browser and have the same functionality. NDM is a fantastic IDM replacement, however, it's only available as a browser plugin.
Windows and macOS versions are available for purchase. The browser extension is available for free on all operating systems.
Turbo Download Manager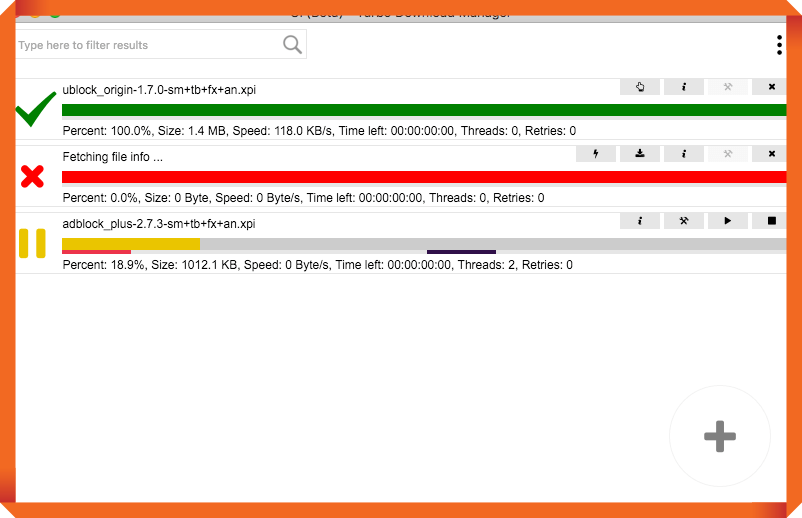 Another free IDM option, and one of the best, is Turbo Download Manager. The support for multi-threading downloads, which greatly increases download speeds, makes it the best.
It has the same functions as IDM, such as the ability to pause/resume downloads and many more. The option to preview media files, as Download Accelerator Plus does, is an added benefit to all of the other functions.
Turbo Download Manager has a simple and straightforward user interface. It, like IDM, has an automated video capturing function that captures video, audio, picture files, and anything else you throw at it. It does, however, support all operating systems while being a free service.
It's free software, and the source code may be found on Github. The downloads are hosted on SourceForge, which ensures that they are free of malware and viruses.
Windows, macOS, Linux, and Browser Extensions are all available.
Xtreme Download Manager
Another great alternative to IDM is Xtreme Download Manager. It has all of the same features as the Internet Download Manager. Accelerating download rates, restarting stopped or even broken downloads, video capturing, scheduled downloads, and many more features are among the most important. It is free for a reason, despite having the same functionality as IDM.
Xtreme Download Manager, or simply XDM, is a browser plugin that interacts with browsers to quickly acquire downloads. XDM supports all browsers, including Google Chrome, Firefox, Edge, Vivaldi, and others.
The best aspect is that XDM has a video converter that allows you to convert or download videos in specified formats. Unlike IDM, it is accessible as open-source software, which means it is free to use. Give it a go as an IDM substitute, and you'll be pleased.
Windows, macOS, Linux, and Java-based software are all available.
aria2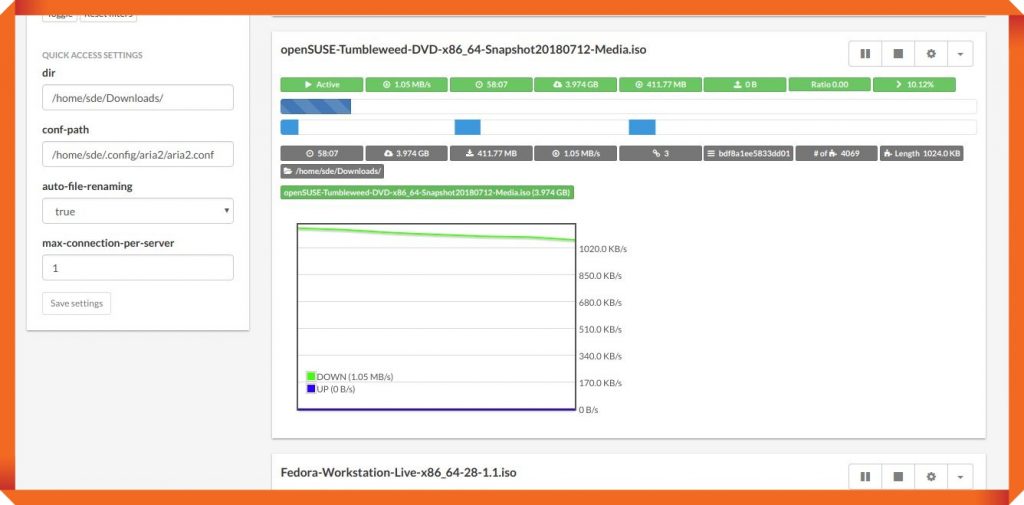 If you want a lightweight download manager, aria2 is the one for you. There are no hitches in the operation of this software. You may avoid such massive learning curves by using aria2. It's more of a plug-and-play kind of application. As a consequence, aria2's User Interface is simple to use while retaining its functionality.
The download tasks in aria2 are extremely good, making it a great IDM alternative. As an IDM alternative, it has all of IDM's capabilities, including quicker download rates, multi-connection downloads, and more. Aside from that, aria2 has a BitTorrent client that allows you to download torrents. When it comes to lightweight download managers, it is perhaps one of the finest free IDM alternatives to use.
Windows, macOS, Linux, and Android are all supported.
Persepolis Download Manager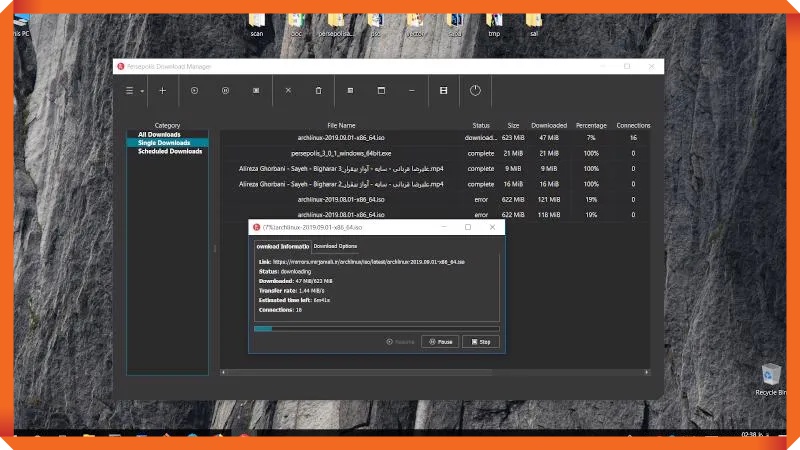 Persepolis Download Manager is a program that works well with the aria2 Download Manager and is an IDM alternative. It comes with HTTPS and FTP support out of the box, as well as aria2 configuration for the fastest potential performance. The graphical user interface is easy on the eyes and does not have a steep learning curve. You may also change the date and time of the downloads in addition to these options.
It also allows multi-segment downloads, similar to IDM, to speed download up downloads. Furthermore, once your downloads are complete, this download manager enables an automated system shutdown. When copied into it, it allows video connections from YouTube, Vimeo, and many other sites. Persepolis is an excellent alternative to IDM and is supported by key systems such as Windows, macOS, and GNU/Linux.
Windows, macOS, and GNU/Linux are all available.
Download Faster with Free IDM Alternatives for Windows, macOS, and Linux
It is necessary to download files from the internet. Many applications come with features to help you keep track of your downloads. Because problems may arise when downloading data, a download manager is one such tool for internet users. When you don't have access to a stable internet connection or resources, a download manager comes in useful. If you wanted to replace IDM with another download manager, the list of the top IDM alternatives provided above might be useful. The best thing is that they're all free to use.
The utilities mentioned are available for macOS, Linux, and other operating systems, however, IDM is exclusive for Windows PCs. We hope that this list has answered all of your questions about this topic.
So, tell us which download manager from this list was your favorite. Which one would you like to utilize instead of IDM? Feel free to comment in the comments box beneath.