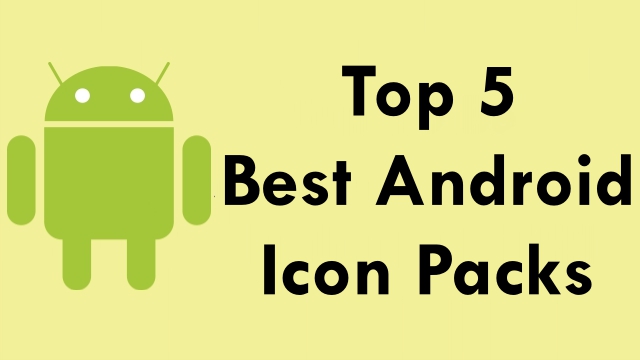 One of the best features of Android is the ability to personalize almost every element of it with the Play Store's millions of applications.
Whether you want to change your wallpaper or your phone's whole theme, there's an app for that. While rooting your phone is required to take customization to the next level, there is still a lot you can accomplish without rooting your Android device.
According to One of these things is installing icon packs from the Google Play Store to give your home screen a distinctive appearance. Keep in mind that not all Android launchers and not all custom icon packs are compatible with all Android launchers.
So, here's a list of the five greatest new Android icon packs that work with the most popular Android launchers including Nova, Action, and Go. These may assist you in giving your favorite device a distinctive appearance and allowing it to stand out from the crowd.
Top 5 Best Android Icon Packs
Viral Icon Pack
We adore this icon set, and it is one of our favorites in the Play Store. The greatest feature of the Viral Icon Pack is that it includes a dynamic calendar. This implies that your icons may be changed to new ones daily.
There are hundreds of icons in this icon pack, and if your launcher allows it, you may choose various alternatives for the same symbol if you don't like the default one. You may also obtain custom-themed shortcuts with the Viral Icon Pack if you use Nova Launcher or any other launcher that accepts Android O styled icon shortcuts.
The Viral Icon Pack supports over 30 popular app launchers and includes icons in a variety of styles, shapes, and colors to appeal to a wide range of tastes and preferences.
Pixelation Icon Pack
Pixelation may be the perfect option for you if you like stock Android and the way the icons and design look.
It includes hundreds of icons that are specifically intended to appear like stock Android to give you the impression that you are using a Google Pixel smartphone.
In the Pixelation icon Pack, all of the icons are dark by default. However, you may choose from a variety of specific options for many system icons and popular applications.
If you ever want to give your phone a distinctive appearance, several of the icons of major applications like Whatsapp and Facebook offer alternative styles. Pixelation also works with nearly all of the major launchers, and it includes separate icons for different manufacturers, such as Samsung and HTC.
Halo Icon Pack
The Halo Icon Pack has to be one of the most unique icon sets on the list. Unlike other icon packs, it gives all of its icons a glow effect, giving them a paint-like appearance.
If you want to adopt a vintage style and have some colorful wallpapers, the icons from Halo Icon Pack would look fantastic on your smartphone.
Halo, like other icon sets, works with all of the major Android launchers. It also has a dynamic calendar, similar to the Viral Icon Pack, so you may receive a fresh collection of icons and a new appearance on your smartphone every day.
Zarf Beta Icon Pack
Zarf Icon Pack is still under development and has not yet been released to the general public. However, it seems to be in good working order, except for a few unusual force closures.
Zarf's icons feature a drawing that appears like it was created with color sketches on your phone. Because the majority of these icons are colorful, they would look fantastic on dark-themed backgrounds.
The Zarf Icon Pack is a great way to add a little bit of fun to your phone while also giving it a new appearance.
Teron Android Icon Pack
If you have a quirky and strange sense of style, Teron is the icon pack for you. Teron icons are distinguished by their use of unique hues that are not usually associated with icons.
You'll find orange, yellow, grey, pink, and a variety of other unusual hues. So, if you decide to check out Teron Icon Pack, you can be certain that your home screen will be unique.
Wrap up
If you know of another great icon pack that we should add to our list, please let us know in the comments section below.
Check out our other articles, and don't forget to subscribe to our newsletter and like our Facebook page because a follow-up post with five additional icon packs, as well as other methods to personalize your device, will be published in the coming days!