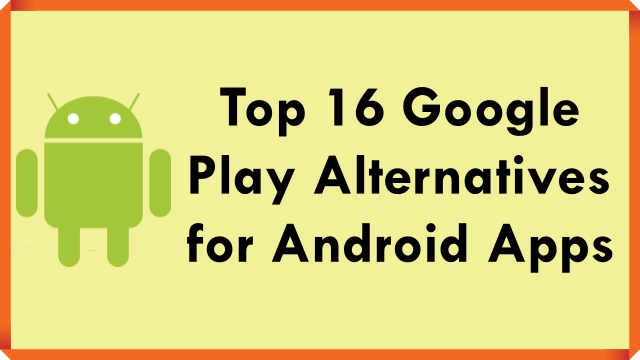 When it comes to downloading applications, we all know that the Google Play Store and App Store are the most well-known app stores in the world, with the majority of programs available. This isn't the only choice, however.
There are several other options, such as Google Play and Software Store, that you may try to discover the ideal app or game for your needs. The problem is that the Google Play Store and App Store each have millions of applications, making locating the correct one difficult; furthermore, many app shops offer curated lists of apps based on various filters and sorting.
Top 16 Alternatives to Google Play & App Store for Android & iOS
1:APKPure
APKPure is a free, open-source service that lets users download APK files (Android applications that can be installed once the file is downloaded). Users may also download applications that are region-specific and not accessible on the Apple App Store or Google Play Store using the APKPure app.
On the APKPure app store, you may find popular applications like TikTok, PUBG Mobile, and others. The version history of the software is also accessible.
2:Amazon App Store
All Amazon Fire devices, including the Kindle, Fire Phone, and Fire Tablet, use the Amazon app store as their main app store. The Amazon App Store, on the other hand, is not restricted to Amazon devices and can be used on any Android smartphone.
The most compelling incentive to download the Amazon App Store is that it provides a premium app for free every day. Yes, the Amazon Program Store allows you to download a purchased app for free.
The app also provides a tailored experience depending on what you've seen, searched for, and downloaded.
3:Aptoide
Aptoide is well-known for having applications not available on the Google Play Store. Users may control their stores since the app is not centralized like Google App Store.
Apps that aren't accessible on the Google Play Store may be downloaded for free via the Aptoide app store. Aptoide also allows you to download NSFW games and applications. Even some app updates have previously been available on Aptoide.
Developers may employ sponsored acquisition campaigns to have their software or game shown as advertisements to consumers, and they just have to pay for the number of downloads.
4:F-Droid
F-Droid is an open-source app store, and all of the applications and games offered there are as well. The app shop is entirely funded by contributions and is managed entirely by volunteers. It exclusively accepts free applications and has a policy of not promoting apps with paid add-ons or advertisements.
The program includes some basic applications, such as Simple Gallery, as well as several games. If you want to locate and download anything that isn't available on Google Play Store, you may use the app. The app store is reliable and secure.
The shop has a large client base and is free; therefore, the greatest benefit is that trying the F-Droid App Store will not cost you.
 5:Aurora's Store
AuroraOSS is an open-source program that contains thousands of popular mobile applications and games that are available for free download. The app store's distinct visual design is a significant feature that contributes to a clean experience thanks to its modern UI.
Anonymous login, Google Login, Light/Dark mode, Device Spoofing, Filter F-droid applications, Blacklist apps, and other features are among the highlights of the Aurora store. All of these elements add to a fantastic user experience.
6:Galaxy Store by Samsung
Samsung Galaxy Store is a mobile app store that comes pre-installed on Samsung Galaxy and Gear smartphones. A Galaxy and Gear device user's go-to destination for unique benefits and discounts is an app store.
The app store offers a plethora of themes and fonts that may be used to personalize one's smartphone. Users do not need to register or log in to explore and download applications. The software supports nearly all local languages, making it very simple to use and navigate.
It provides players with special gaming deals, and gamers may find premium offers and one-of-a-kind perks.
7:GetApps
GetApps is a specialized app store by Xiaomi for all Xiaomi smartphones such as Redmi, Poco, Mi, and others, similar to how Samsung Galaxy Shop is a dedicated app store for Galaxy and Gear devices. On GetApps, users can simply explore, manage, and install millions of applications.
There are also several unique applications accessible, such as Mi Credit and Mi Pay. All of the popular applications, such as TikTok, Facebook, and Whatsapp, are available in the app store. The GetApps app store does not need registration.
GetApps offers a wide range of free applications, and the site claims to never charge customers. All of the applications go through a thorough quality assurance process, ensuring that all of the apps on the store are safe to download. There is a lot of content accessible, which makes it easier for consumers to choose the appropriate applications.
8:APKMirror
APKMirror is an app repository rather than an app store. A repository is a file storage place where different versions of the program are stored.
As a result, it's advantageous if you want to utilize an older version of an app or game. Another advantage of utilizing APKMirror is that it does not need the use of a geolocation app. As a result, you get access to all of the applications that aren't accessible on the Google App Store owing to geo-location restrictions.
You do not need to create an account to explore and download applications; you may do so without registering. You may also receive early access to alpha and beta versions of the applications.
9:Huawei App Gallery
The Huawei App Gallery used to be a specialized app store for Huawei and Honor smartphones, however, after the US sanctions and consequent Google ban, the Huawei App Gallery is now available for download and use on all Android devices.
App Gallery offers over 1.3 million applications from a variety of prominent developers and publishers. More than 400 million people have downloaded apps from the app store. The app shops, in addition to parental control, provide excellent security.
Various charts and curated lists assist the user in choosing the ideal software or game for their needs. Gift centers, exciting promotions, local events with prizes, and other local exclusives are available to App Gallery members.
10:App Store (Apple)
The Apple Software Store is a specialized app store for iOS devices such as iPhones, iPads, Macbooks, and the iWatch. Apple Inc. created and maintains the Apple App Store. Users may browse and download applications created using Apple's iOS software development kit using this app.
This app shop rivals the Google Play Store in size. Because Apple devices run on iOS, this is the only app store where consumers can explore and download applications for their devices.
The Apple Software Store is one of the safest, if not the safest, app stores available. The iOS app clearance procedure is the most difficult.
11:GetJar
GetJar is a free application catalog that can be used to find and download free apps for mobile phones and tablets. For Android, apk files are available, while for Symbian, Jar (Java) files are available (mostly found in Nokia Devices).
The applications are organized into several categories, making it simple to find what you're looking for. Additionally, the categories are split into subcategories, making it easier to locate the required software.
The primary benefit of utilizing GetJar is that it provides users with virtual currency when they download applications. GetJar Gold Coins may be redeemed for free premium applications in the Google Play Store or Amazon.
12:SlideME
SlideME is an app shop that predates the Google Play Store for many years. It is the most often discovered app store as a Google Play Store alternative. After being evaluated, all of the applications featured on the app are curated.
Paid applications may be purchased using PayPal or Amazon Pay. SlideME provides free features like SlideLock for program security and in-app payment to app developers. The applications featured on SlideME are safe to use since they utilize normal application protection.
13:Uptodown
The Uptodown app is a specifically built app store for Android applications. You may download applications directly in APK format, securely and fast, using the Uptodown app.
You may even revert to an earlier version of the program. Because the app provides automatic updates, all of your applications will always be up to date. On Uptodown, there are no geographical limitations. There is no need to register or sign up; you can just explore and download all of the applications without any hassle.
Thousands of Android applications are available on Uptodown. All of the applications include extensive editorial material as well as in-house screenshots that assist you to understand the app's capabilities.
14:Mobile9
Mobile9 is an all-in-one application that includes everything an Android phone or tablet needs. It provides Android apps that are available on Google Play Store as well as apps that are not available on Google Play Store. There are also wallpapers, ringtones, videos, music, and many other things to choose from. As a bonus, everything on Mobile9 is free.
It also includes a section where you may freely download YouTube videos. It also sells literature, such as ebooks, comics, and audiobooks. It also has dynamic wallpapers and mobile themes.
15:Mobango
Mobango is a popular Android app store with millions of users and over 1000 daily downloads. The Google Play Store comes in second place. The fact that there are fewer applications on this store is a positive for developers since it makes it easier to get your app rated. Furthermore, uploading the software is free, and you are not required to split any revenue.
Thanks to the numerous categories and sub-categories, users can quickly browse through and select the appropriate software. It is also possible to share an app through message or e-mail, making it simple to transfer a program from one device to another.
16:Bemobi Mobile Store
Bemobi Mobile Store is a popular app store and digital distribution platform for both developers and consumers. You may pick from tens of thousands of applications and games. The categories and subcategories are so useful that it's easy to discover the ideal software for oneself. Because the app store is overflowing with games, it's the best location for gamers to discover titles that aren't accessible on Google Play.
Confused about which app store you should choose to release your app/game?
You may contact Capermint Technologies, one of the top app development firms in the United States and Canada, for advice and to get your app/game published on whatever app store you choose. Our app and game developers have published applications and games on a variety of app stores, so they can advise you on the best app store for your app/game based on their expertise.
  As a user, why should you select a Google Play Store & App Store Alternative?
As soon as the government instructs them to, the Google Play Store and App Store will delete an app (perhaps your favorite).
More categories and curated lists are available.
Get access to beta versions of applications that aren't available on the Apple App Store or Google Play Store.
If you upgraded your app from the Play Store or Program Store, you may download the old version of the app from other app stores if you don't like the new update or if it includes problems.
Here you can get a lot of premium applications for free.
   As a developer, why should you choose an alternative to the Google Play Store and Apple App Store?
Because many people use other app stores, releasing your program on only the App Store will restrict the number of downloads. You should attempt to distribute your app on as many app shops as possible.
You may advertise your app in a variety of app shops.Other app stores may include your software in a variety of categories or curated listings.
There are fewer possibilities of your app being featured in the top 10 charts of the Google Play Store & Play Store since competition is lower on other app shops. However, your app may still be listed in the top charts of other app stores
Summary
Choosing the best Google Play Store and Apple App Store alternatives may be difficult. Each app store has advantages and disadvantages. There is no full substitute for the Play Store and App Store. They may still locate a third-party app store to assist them to get applications that aren't accessible on Google Play Store or Apple App Store at all or are banned owing to government policies or geographic limitations.
However, all of the aforementioned app shops are free to download, so you may give them a go without fear.
This was all there was to it! Thank you so much for reading!