Tech
Tractor Supply air compressor Companies
Air compressors are an essential tool for many industries and applications. From powering pneumatic tools to supplying compressed air, air compressors provide the compressed air needed to get work done efficiently and effectively. As one of the leading farm and ranch supply retailers, Tractor Supply Company offers a wide selection of air compressors and accessories from top brands.
An air compressor uses a power source to drive a piston or impeller, compressing air to the desired pressure level. The compressed air is then stored in a tank until needed. Air compressors come in a variety of types and sizes for different purposes. Portable compressors can be easily transported for use in remote locations. Stationary compressors provide high airflow capacity for major applications. Specialty compressors offer optimized performance for specific tools and jobs.
With a long history of providing equipment to farmers, ranchers, and trade professionals, Tractor Supply Company has become a go-to destination for air compressors and accessories. Tractor Supply carries top brands and a range of compressor types to suit DIY homeowners and professional contractors.
This article will provide an overview of the major air compressor companies and products available through Tractor Supply, types of compressors, key features to consider, maintenance and servicing needs, and insights into purchasing the right air compressor for your needs.
Tractor Supply as a Leading Air Compressor Retailer
Tractor Supply Company opened its first store in Minot, North Dakota in 1938 as a tractor parts supply shop. Founded by Charles E. Schmidt Sr., the company grew over 8 decades into the largest rural lifestyle retailer in the United States. With over 2,000 stores in 49 states, Tractor Supply provides a wide range of products for home, land, pets and animals. This includes tools, truck accessories, workwear, lawn and garden supplies, livestock equipment and more.
In addition to convenient retail locations, Tractor Supply also offers an extensive online catalog of products that can be purchased and shipped directly. The company supplies recreational farmers, ranchers, tradesmen and small businesses. Tractor Supply promises "quality products at everyday low prices" backed by customer service from knowledgeable store associates.
Tractor Supply's Position in the Air Compressor Market
With its extensive reach across rural America, Tractor Supply has become a leading choice for air compressors and accessories. The company estimates over 23 million households shop at Tractor Supply stores each year. Many rely on Tractor Supply for their air compressor needs whether for major construction, auto repair, metal fabrication, or DIY projects.
Tractor Supply offers all the leading national brands of air compressors that professionals trust. This includes compressor manufacturers Ingersoll Rand, DeWalt, Campbell Hausfeld, Craftsman, and more. Tractor Supply makes it convenient to purchase quality air compressors and parts locally or online and avoid the hassle of specialty industrial supply companies.
Range of Air Compressor Products Offered by Tractor Supply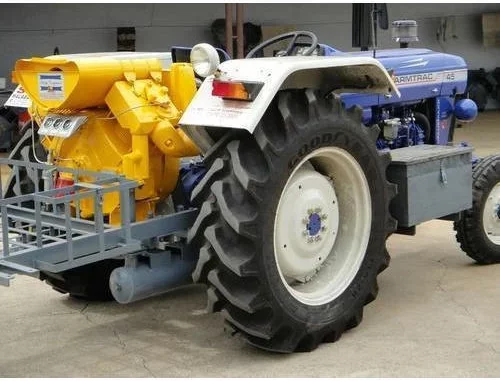 Tractor Supply carries a full line of air compressors and accessories to suit any application. Products include:
Stationary electric compressors up to 60 gallons in size and up to 175 PSI pressure capacity for high demand professional use

Portable and pancake compressors ideal for inflation, smaller tools, and remote job sites

Gas powered air compressors capable of operating where electric power is limited

Air compressor parts including air filters, air tools, hoses, fittings, oil, and tanks

Top rated brands such as Ingersoll Rand, DeWalt, Campbell Hausfeld, Craftsman, Husky and others
With its breadth of inventory, Tractor Supply is equipped to supply both light DIY air compressor needs as well as heavy duty high performance models. Tractor Supply store staff can provide guidance to select the right compressor and accessories for your specific application.
Types of Air Compressors Available at Tractor Supply
The air compressor market encompasses a range of compressor types, sizes, and designs tailored to different purposes. Tractor Supply offers many of the most common compressor configurations to meet both light-duty and heavy industrial needs.
1. Portable Air Compressors
Portable air compressors represent the smallest and most mobile designs in the market. They allow compressed air on demand wherever needed and easily move around a work site or transportation in a vehicle. Key portable compressor types include:
Pancake compressors – Typically 1 to 6 gallon tank capacity. Low profile horizontal tank. Ideal for inflation and light duty tools.
Hot dog compressors – Slightly larger tank up to 10 gallons. Tall cylindrical tank for compact footprint. Handles more frequent air tool use.
Twin stack compressors – Dual horizontal tanks for increased capacity while maintaining portability. Allows extended run times.
Wheel mounted compressors – Larger single or dual tanks on wheeled cart for easy transport around a site. Tank sizes from 10 to 80+ gallons.
Tractor Supply provides a range of reputable brands in portable compressors such as Craftsman, Campbell Hausfeld, Ingersoll Rand, Husky and more. Portable units represent an affordable entry point to compressed air while maintaining flexibility.
2. Stationary Air Compressors
For high-demand continuous use, stationary air compressors offer the largest tank capacities and compressor sizes. Stationary units provide a permanent compressed air solution for a workplace or garage, delivering ample air for multiple tools or high-consumption activities. Tractor Supply stocks trusted brands in heavy-duty stationary compressors, including:
Single-stage compressors – Compact and energy efficient for smaller air demands. Good for intermittent use with one tool.
Two-stage compressors – Larger and more powerful for frequent heavy-duty use. Two compression stages allow higher pressures.
Gas and diesel compressors – Engine-driven for continuous use in remote settings without electricity. Offer high airflow outputs.
60+ gallon vertical tanks – Large capacity tanks extend compressor run time between cycles. Allows for multiple high-consumption tools.
Stationary compressors from Campbell Hausfeld, Ingersoll Rand, DeWalt and others deliver the power and pressures for automotive service, industrial fabrication, construction, manufacturing and other intensive applications.
3. Specialty Air Compressors
Beyond general portable and stationary designs, Tractor Supply also offers specialty air compressors built for specific tasks:
Low RPM/high-pressure compressors – Provide ultra-quiet operation for noise-sensitive areas.
High CFM models – Deliver extra airflow for high-demand pneumatic tools or large cylinder filling.
Air compressor pumps – The compressor pump unit alone for custom installations. Allows tank separation.
Gas-powered belt drive compressors – Run continuous heavy-duty service off an engine rather than an electric motor.
Air compressor wall mounts – Secure mounting of compressor pumps for a clean and organized workspace.
With its breadth of specialty models, Tractor Supply can meet unique compressed air needs from automotive service to woodworking. Knowledgeable staff help tailor recommendations to your specific work requirements.
Key Features and Considerations for Choosing an Air Compressor
Purchasing an air compressor involves assessing needs to select the right specifications and features. Key considerations when choosing an air compressor include:
1. Compressor Type and Capacity
Compressor pump type – Single stage, two stage, centrifugal, or reciprocating design
Intended use – Intermittent or frequent tool use, high or low air demand, stationary or transportable
Tank size – Larger capacity extends run time between compressor cycles
Duty cycle rating – Determines minutes of runtime before overheating
2. Power Requirements
Electric vs gasoline engine models – Electric is convenient yet reliant on available power. Gas allows remote operation.
Voltage on electric models – Household 115V or high 240V configuration
Power in horsepower (HP) – Dictates compressor strength and airflow capacity
3. Pressure and Airflow
Max pressure (PSI) – Matches capability to tool pressure demands
Cubic feet per minute (CFM) – Airflow rating for high-consumption tools
4. Noise Level
Decibel (dB) rating – Important for noise-sensitive areas
Noise reduction features – Shrouds, enclosures, low-RPM designs
5. Portability
Tank handle, wheels and compact size for mobility
Additional Features and Accessories
Air line connections and quick couplers – For linking tools and hose Integrated air filtration and moisture control
Multi-tool air outlets – Allows simultaneous use
Air compressor parts and accessories – Filters, oil, hose, fittings, etc
Considering these specifications and features will ensure the compressor selected aligns with your specific workload, tools, and operational environment. Tractor Supply staff can provide expertise guiding customers on the ideal compressor choice.
Top-Rated Air Compressor Brands Sold at Tractor Supply
Among the wide range of air compressors carried at its stores, Tractor Supply offers many leading national brands known for performance, reliability, and durability. Top air compressor brands available include:
1. Ingersoll Rand
With a history dating back to 1871, Ingersoll Rand helped pioneer modern air compressor technology. The manufacturer offers both portable and stationary compressors from its Centac and R-Series products. Key benefits include:
Proven reliable performance even under extreme daily use

High CFM airflow ratings for demanding applications

Durable cast iron construction and compressor pumps

Affordable pricing relative to performance
2. Campbell Hausfeld
Founded in 1836, Campbell Hausfeld is a leading compressor brand for DIY homeowners and professionals. Notable features include:
Broad range of portable to stationary offerings

Designed for easy operation and maintenance

Rugged and durable enclosed frame designs

Value driven prices across all models

Quiet compressor ranges for noise-sensitive areas
3. Quincy Compressor
With origins dating back to 1920, Quincy Compressor focuses on high-performance industrial and commercial grade air compressors. The brand is known for:
Large vertical stationary tank designs

High airflow outputs ideal for factories and large workshops

Rugged cast iron construction for uninterrupted service

Reputation for quality manufacturing and performance
4. DeWalt
In addition to power tools, DeWalt has become a leader in portable jobsite air compressors. Key features include:
Lightweight and compact designs optimized for transport

Large duty cycle ratings for extended continuous operation

Durability to withstand tough jobsite conditions

User friendly operation and maintenance
5. Craftsman
The Craftsman brand by Sears offers affordable portable and stationary compressors ideal for home DIY use. Notable benefits include:
Competitive pricing positions for homeowner budgets

Sufficient performance for common DIY tasks

Easy maintenance oil-free designs on certain models

Craftsman brand reputation for value and performance
Other Leading Brands:
Beyond these, Tractor Supply rounds out its air compressor stable with other well-known brands including Porter-Cable, Husky, Ridgid, and Milwaukee. Each provides quality portable and stationary compressors tailored for construction, automotive service, industrial and home garage use. With its breadth of premium brands, performance requirements, and pricing points, Tractor Supply has the right compressor solution for any project.
Purchasing an Air Compressor from Tractor Supply
Tractor Supply aims to provide a convenient one-stop shop for air compressors and accessories, offering benefits whether shopping online or at a retail store location.
1. Online and In-Store Purchasing Options
The Tractor Supply website allows searching its full catalog of air compressor models, specs, and pricing. Compressors can be purchased online for home delivery or in-store pickup. This allows pre-selecting the desired compressor and confirming availability before traveling to a store.
Alternatively, customers can visit one of over 2,000 Tractor Supply stores nationwide to shop for compressors in person. Hands-on inspection and comparison is possible. Store stock depends on local demand. Larger flagship stores carry the most compressor options. Inventory can be checked online first.
2. Expert Advice and Guidance From Tractor Supply Staff
Tractor Supply staff receive training on the air compressor products, technologies, and brands offered to assist customers. Associates can guide in selecting the right compressor specifications for your specific work tools, environment, and usage requirements. Staff can clarify technical specifications between models.
Store visits allow asking staff questions in person. Online customer service reps are also available to take your call or chat for any pre-purchase questions. Tractor Supply aims to equip customers with the product knowledge needed to make an informed air compressor selection.
3. Financing Options
Major air compressor purchases can be spread out through financing options offered by Tractor Supply online and in-store. Approved credit provides 12 months of special financing on compressor purchases over $199. This allows customers to acquire the right compressor while paying over time. Extended warranty plans are also available to provide peace of mind.
Maintaining and Servicing Your Air Compressor
To ensure an air compressor provides years of trouble-free service, proper maintenance and care is required. This involves following manufacturer-recommended service intervals and procedures. Key aspects include:
1. Regular Maintenance Schedule
A maintenance schedule provides guidance on tasks and intervals, which may include:
Daily: Check compressor oil level and drain moisture from tank

Monthly: Inspect air filter and change if needed; check for unusual noise/vibration

Every 6 Months: Change compressor oil; clean air filter; inspect belt tension

Yearly: Replace air intake filters; drain and clean entire air tank
Tractor Supply can provide specific maintenance guidance for your make and model of compressor. Sticking to the recommended schedule is important for longevity.
2. Proper Storage and Handling
When not in use, best practice is to store compressors indoors in a clean, dry space. Safety valves should be left open to prevent moisture buildup in the tank. Portable compressors should remain upright, never tilted or laid horizontally which can cause oil leaks over time. Units should remain protected from dirt, dust and external damage whether in use or storage.
3. Troubleshooting Common Air Compressor Problems
While air compressors are generally reliable, issues can arise over time. Some common problems and solutions include:
Excess Moisture: Install inline air drier; drain tank more frequently; check for air leaks

Overheating: Clean or replace air intake filter; ensure sufficient ventilation

Low Pressure: Check for air leaks with soapy water; drain moisture from the tank
A professional should inspect serious issues. Tractor Supply staff can provide troubleshooting tips. Overall, following proper operating procedures and maintenance is key to maximizing compressor lifespan.
Frequently Ask Questions
Q 1: What Types of Air Compressors Does Tractor Supply Sell?
A: Tractor Supply offers a full range of air compressor types including portable pancake and hot dog compressors, wheel-mounted models, and large stationary units from top brands like Ingersoll Rand, Campbell Hausfeld, DeWalt, and Craftsman.
Q 2: What Size Air Compressors Are Available at Tractor Supply?
A: Compressor tank sizes at Tractor Supply range from compact 1 gallon pancake compressors up to 60+ gallon high capacity stationary units able to power multiple tools at once.
Q 3: Does Tractor Supply Offer Any Specific Air Compressor Brands?
A: Yes, Tractor Supply carries major national air compressor brands including Ingersoll Rand, Campbell Hausfeld, DeWalt, Craftsman, Porter Cable, Husky, Ridgid, and Milwaukee.
Q 4: Can Air Compressors Be Purchased Online Through Tractor Supply?
A: Certainly, Tractor Supply's website allows browsing and purchasing air compressors for home delivery or in-store pickup. Customers can also purchase in person at over 2,000 Tractor Supply locations.
Q 5: What Accessories Does Tractor Supply Offer for Air Compressors?
A: Accessories include air hoses, fittings, filters, regulators, lubricants, receivers, dryers, drains, and parts for repair and maintenance of existing air compressor systems.
Q 6: Does Tractor Supply Provide Any Air Compressor Servicing or Repair?
A: While they do not perform compressor repair services, Tractor Supply staff can provide troubleshooting tips and maintenance best practices to keep your compressor operating properly.
Q 7: What Tips Does Tractor Supply Recommend for Maintaining an Air Compressor?
A: They advise following the manufacturer maintenance schedule, which typically involves changing oil, draining moisture from the tank, replacing air filters, and inspecting for leaks annually.
Q 8: Why Choose Tractor Supply for an Air Compressor Purchase?
A: Tractor Supply offers the convenience of online or in-store shopping, price competitiveness, expertise guiding customers to the right product, and access to leading air compressor brands that professionals rely on.
Conclusion
In summary, air compressors provide invaluable air supply for numerous applications, from home DIY projects to professional automotive service and industrial facilities. As a leading rural lifestyle retailer, Tractor Supply Company offers all major air compressor types, sizes, capacities, and brands to suit any need.
With a focus on delivering value, performance, and Durability, Tractor Supply provides access to top air compressor manufacturers, including Ingersoll Rand, DeWalt, Campbell Hausfeld, Craftsman, and more. Compressors can be conveniently purchased online or in-store after consulting with staff experts to identify the right model for your needs. Keeping up with scheduled maintenance and proper care ensures years of trouble-free service.
For DIY homeowners or professional trade workers, Tractor Supply stands ready to provide the right air compressor solution matched to your workload and use cases. With its vast catalog of air compressors and accessories, knowledgeable staff, and competitive pricing, Tractor Supply Company represents the ideal retail partner for staying powered up.