Free Fire is a fantastic survival shooting game for Android and iOS users, created by 111 dots studio and distributed by Garena. This game is very popular, and it was named the "best popular vote game" of the year by Google Play in 2019.
In addition, it is the year's most downloaded smartphone game. Over 450 million people have downloaded the free fire app, with 80 million of them using it regularly.
It's a battle royale game in which you're dropped on a lonely island every ten minutes and must then compete against the other 49 players for survival.
You also have the option of choosing where you want to begin the game and how long you want to stay in the game's safe zone.
There are 50 participants in the game. Whoever begins the game by parachute jumping from an aircraft and landing on an island must then search for goods such as utility items, weaponry, and medical equipment to eliminate their opponents. As you go through the game.
The warzone is shrinking, forcing players to stay in certain locations and face more confrontations. And the game is won by the last individual or team to survive the battlefield. This game has a lot in common with pub g mobile.
Unlike pub g, though, this game operates with the smallest number of resources and uses the least amount of data. So, if you want to play this game on your pc or Mac, we'll show you how to do it. And whether you're new to gaming or just want to improve your skills, beginning with some of the best free fire emulators is a fantastic place to start.
This ultimate game is free fire.  you must be quick in the game and have a rapid response time while switching activities to go ahead swiftly. Because you only have 10 minutes. However, the issue arises when changing the story takes a long time on your smartphone. It usually occurs when your mobile device lacks a multi-touch screen.
As a result, it is preferable and advised that you play free fire using an emulator, which allows you to have complete control over the game. Because you only have 10 minutes for each round, you must be very fast when switching tasks, yet many cellphones are incapable of performing several instructions at once.
Playing free fire on your Mac or PC may be a better choice. You may also utilize emulators to get greater control over the game.
What Are the Benefits of Using an Emulator?
On a large screen, gaming always feels better. So playing free fire on a pc is much superior to trying to play it on your phone while suffering. Playing free fire on a PC has more advantages than disadvantages.
A large screen with a fantastic virtual reality experience.

The ability to operate the keyboard and mouse is one of the most significant advantages.

The ability to work with scripts.
Many emulators, such as blue stacks and game loop, enable gamers to play free fire on PC, however, in this piece, we'll look at some of their alternatives.
Is it better to use an emulator or a simulator?
An emulator's goal is to emulate the original (in our case) mobile device. It duplicates the main device's lead, including both equipment and programming. It performs all of the equipment that the actual device does, enabling the comparable program and the complete item to operate on it without modification.
A simulator provides a nearly safe environment for the operating system of the main real device. It does not, however, try to replicate the hardware of the original device.
As a result, you'll be able to view the device's operating system and user interface. You may not encounter all of the equipment's problems. Some apps may perform admirably, which is one of the main reasons why the test systems aren't completely trustworthy.
Advantages and disadvantages of Android and iOS emulator
Advantages:
It is a more cost-effective option.
With this, you may discover unexpected behavior.
It executes the program without any changes.
It's free and open-source.
It is capable of imitating both hardware and software.
It may be linked to an IDE for early testing.
Disadvantages:
It mimics both hardware and software.
smartphone emulators are sluggish to respond.
They may be compatible with a certain operating system.
Emulators are costly and time-consuming to set up.
It ignores problems like battery overheating or draining, as well as difficulties with other apps.
So, which emulator is the best?
There are so many choices available that deciding which one is the best may be a time-consuming and exhausting task. There are a variety of things to consider when emulating Android on a laptop or a Mac.
However, bluestacks is widely regarded as one of the best and most dependable options for playing free fire on a pc. However, we've chosen three bluestacks alternatives that are both popular and secure android emulators. Which will provide you with a fantastic gaming experience when playing free fire on a large screen with customization keyboard control.
NoxPlayer
Because of its tiny size and compatibility with Windows, Noxplayer is one of the best emulators for playing free fire on a pc. It's a fast, slick Android emulator for PC and Mac, similar to the Bluestacks software, and it's built on Android 4.4.3.
This is very old, but with most of the applications, that would not be an issue. It was created in cooperation with gamers and enables you to integrate additional Google Play Store apps. And it provides you with an Android portfolio. This provides a fantastic virtual atmosphere in which you may play free fire.
This is a highly reliable software that is very popular due to its ability to run on both Windows and Mac. Users may map the keys as they like using this software.
The user interface of Noxplayer is extremely basic and straightforward. It also allows you to control the gamepad using the keyboard and mouse. And many gamers say that it is a great emulator for their pc, particularly for low-end machines.
It's compatible with macOS, so you can play free fire on your MacBook or iMac.
To download Nox Player, your computer must meet the following requirements:
A minimum of 2 GB of storage is required.
Intel/AMD dual-core
RAM must be at least 2GB.
VGA: a minimum of 2 GB is required.
LDPlayer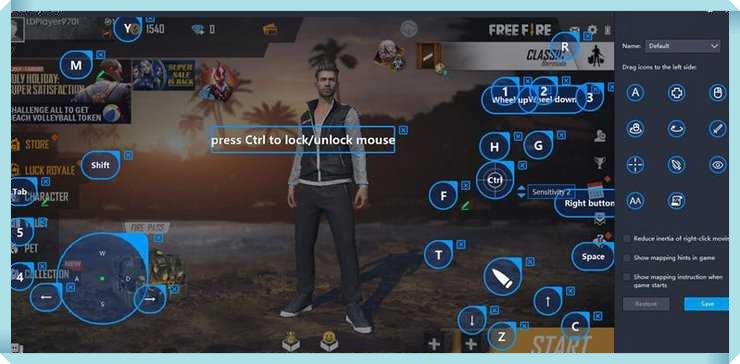 It is a different emulator that may be used to play free fire on a PC without the need for bluestacks. LDPlayer is based on Android 5.1.1 and 7.1.2 and enables a range of high-performance, high-graphic smartphone games on PC. It was launched in 2016 and has a lot of cool features. It's also free.
It makes use of the best virtualization technology to provide you with a satisfying gaming experience. With minimal settings, it will operate well on both desktops and laptops. Because it is so tiny, you will have no difficulty playing free fire with LDPlayer.
It, like Noxplayer, enables you to use your keyboard and mouse to control your game character. Additionally, the development team has included certain keyboard macro capabilities that enable you to do any action while playing the game just by pressing a hotkey.
LDPlayer is only available for download if you have the following requirements:
RAM: 2 GB minimum
Intel/ AMD
A minimum of 36GB of storage is required.
Operating system: Windows XP or higher
Graphics driver
MEMU
MEMU is another emulator that can be used to play free fire on a pc. This one, like the other two emulators listed above, is modest in size and will allow you to play Free Fire smoothly.
MEMU allows you to have more control over your mouse and a more engaging keyboard experience. MEMU offers the following functionality for certain keys to play free fire –
Key F: Adding the 'Loot,' 'Eject,' 'Use,' and 'Drive' functions.
Adding the functions of 'Get in the vehicle' and 'Dive' to Key G.
Adding the function of 'Switch grenades' to Key N.
F1: Resolving the issue of a jammed mouse
Adding the feature of 'Auto enter/leave shoot mode' to the Key Tab and ESC keys.
MEMU makes it simple to play Free Fire on your PC.
MEMU's System Requirements:
OS: Windows Vista / Windows 7 / Windows 8.1 / Windows 10.
CPU: Intel/ AMD.
GPU: OpenGL 2.0.
4GB of RAM is required.
2 GB minimum storage
Another way
Instead of utilizing emulators, you may utilize the premier operating system to enjoy free fire on your PC. It is a PC operating system based on Android. It includes features that are comparable to those found in Android emulators. However, it has more advantages than using it on a Mac or Windows computer.
Emulators require more RAM than the primary operating system. Once it's installed, you may run it independently and use all of the resources without consuming any RAM. This allows the system to operate more quickly when playing.
You will get a seamless gaming experience with the premier operating system. It also works nicely on a machine with just 2GB of RAM without causing any problems.
Emulators take a long time to start and boot, but the prime operating system is quick and gets the user to the home screen quickly. It is also available for free download.
Conclusion
These three emulators for playing free fire on PC are based on what we've seen and tested. Each one has its own set of advantages and disadvantages. Choose one of these three emulators for a fantastic gaming experience.
You may choose one based on your requirements. Before installing emulators, make sure your PC meets the minimum requirements for optimal operation.
Thank you for taking the time to read this. We hope you found this post to be informative.